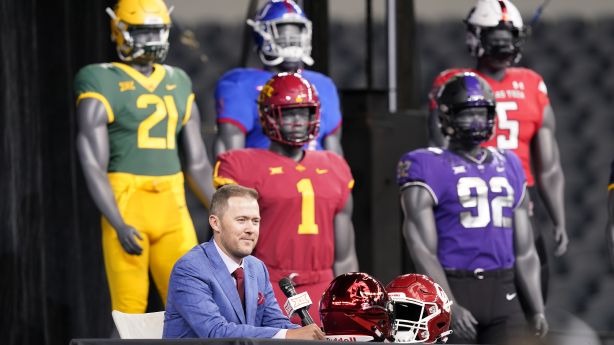 Is BYU a Big 12 expansion candidate? In TV, Cougars have surpassed 'Left Behind 8'
Oklahoma head football coach Lincoln Riley speaks from the stage with mannequins in the back ground during NCAA college football Big 12 media days Wednesday, July 14, 2021, in Arlington, Texas. (LM Otero, Associated Press)
PROVO — As the Big 12 grapples with the reality of losing its flagship institutions, with news that Texas and Oklahoma have formally applied for admission to the Southeastern Conference, the tables now turn to the eight other schools left in the conference.
Big 12 presidents, chancellors and athletic directors will remain engaged in their attempts to keep the Sooners and Longhorns from trading in their Southwest Conference history for the southeast. But with the two schools officially announcing their intent not to re-sign the grant of rights that ends in 2025, the task becomes monumental.
"We are unwavering in the belief that the Big 12 provides an outstanding platform for its members' athletic and academic success," Big 12 commissioner Bob Bowlsby said in a statement shortly after the two schools formally requested invitations to the SEC. "We will face the challenges head-on, and we have confidence that the Big 12 will continue to be a vibrant and successful entity in the near term and into the foreseeable future."
Will Oklahoma State, Kansas, TCU, Baylor and the like follow suit and join another league? Or is now the time to rally the troops, stick together, and re-form the Big 12 in a new image?
If the answer is the latter, there's one school the Big 12 needs, and one reason they need it.
The answers, respectively, are BYU and television.
For the most recent data, BYU football averaged 857,000 views per game during the 2020 season, a season that was played with no or limited fans both home and away, a schedule that was rebuilt on the fly, and one that did not include a Power Five opponent for the first time in over a decade.
Even then, the Cougars topped 1 million viewers four times on the season, including the season opener on Labor Day weekend against Navy (1.15 million); 1.16 million viewers against Houston on ESPN; and 1.55 million viewers for BYU's bowl game against UCF — a game that turned out to be quarterback Zach Wilson's swan song before being selected with the No. 2 pick in the NFL draft by the New York Jets.
BYU's last-minute date with Coastal Carolina — a top-20 matchup scheduled on 96 hours' notice — drew the most viewers to ESPNU since 2015, roughly 1.21 million viewers. The Cougars' regional rivalry game with Boise State dropped off a bit, down to 680,000 viewers, in 2020, but that game aired on Fox Sports 1 under terms of the Broncos' contract with the Mountain West and FOX.
The Broncos could also be a key lynchpin in the Cougars' plans to gain a Power Five invitation. Both schools have lobbied for inclusion into college football's top power structure, and several emails obtained by Boise State reporters via public records requests showed former head football coach Bryan Harsin even lobbying his old bosses to join the American Athletic Conference in an attempt to better promote and push the Broncos' brand to a national audience.
More on the American in a moment, but it seems clear that BYU and Boise State can be strong allies in the race for inclusion.
"Boise State doesn't have a baseball team; they had one for about six months, and then it went away last year. That's going to hurt them when it comes to expansion," B.J. Rains, sports reporter for the Idaho Press, told BYUtv. "Their academics aren't as high as some conferences like the Pac-12 would like to see, in terms of a law school and doctoral things you need to have.
"I just think it's not a slam dunk for other teams to want them. But I think if it's going to happen, it would have to happen with BYU. I think BYU is the perfect partner for them, from a travel standpoint for volleyball, for soccer, for other sports. You could partner up so that other teams don't just come out here for one game. I think there's a lot to be done, but I think a BYU-Boise State marriage and package deal would make a lot of sense."
Those numbers compare favorably to the rest of the Big 12, according to one national media analysis.
In an analysis of television ratings using data from Sports Media Watch, The Athletic found that the average viewership of the non-Texas and Oklahoma schools in the Big 12 — collectively referred to as the "Left Behind 8" by editor-in-chief Stewart Mandel — averaged a fairly pedestrian 886,000 viewers over the past three years.
Oklahoma averaged 3.76 million viewers over 22 games, while Texas was just behind at 3.2 million over 18 games in 2018-19, according to The Athletic. That means 27 of the league's 30 most-viewed regular-season games involved either the Sooners or the Longhorns — and sometimes both.
For context, the Left Behind 8 averaged around 90,000 more viewers per game than the American Athletic Conference, Mandel wrote. More, sure, but hardly enough to justify the conference's current $38.5 million annual contract with ESPN and FOX, according to the league's distribution contract obtained via Form 990. ESPN pays around $7 million to each AAC school annually, on average.
"Meanwhile, a Big 12 AD lamented to The Athletic's Bruce Feldman last week that 'bringing in Cincinnati and UCF doesn't bring any eyeballs,'" Mandell wrote. "Technically, that AD's not wrong. There's no evidence to suggest those schools bring in more eyeballs than his. But he may need to come to terms with the reality that his school may soon be held in similar regard."
Of course, there are outliers. TCU's 2018 game against Ohio State, which aired on ABC, drew 7.2 million viewers, and West Virginia drew 3.9 million viewers for its game against Oklahoma State on ABC in 2018.
BYU's above-average games, naturally, include Power Five opponents. The Cougars' game against USC in 2019 drew 1.6 million viewers on ESPN, a similar number for the annual rivalry game with Utah the same year, according to 247 Sports.
BYU's television draw is a known commodity, although it's not drawing the same numbers as Oklahoma, Texas and most of the SEC.
But none of those schools are likely walking through the Big 12's door. The one team that could be?
The answer is BYU.
"There's one other school out there who I think is very valuable that could help either the Big 12 or the Pac-12," ESPN radio host and noted SEC scholar Paul Finebaum said last week, "and that is BYU."
×
Related Stories
More stories you may be interested in