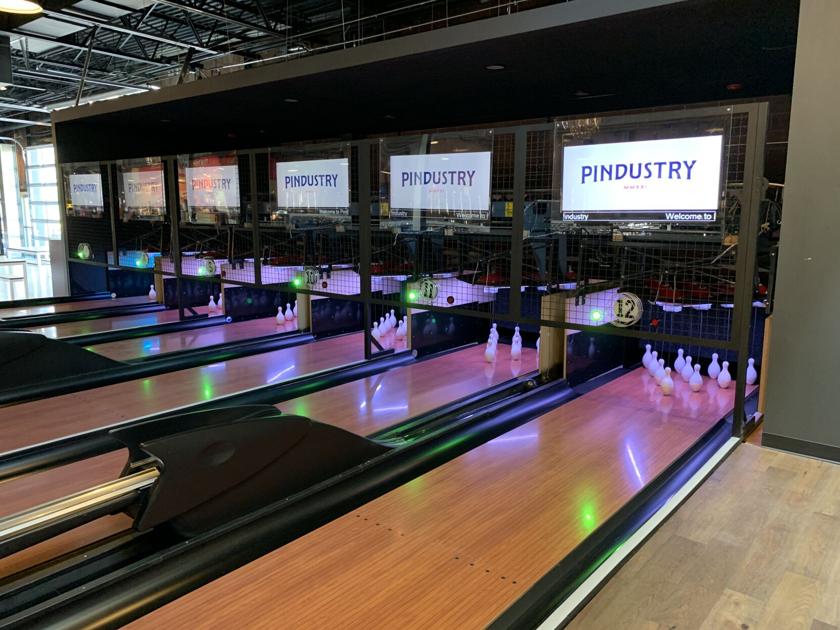 Greenwood Village welcomes sprawling entertainment complex Pindustry | News
When Greenwood Village created the Arapahoe Entertainment District, longtime Centennial developer Kelmore Development wasted no time putting together a plan to transform an old automobile service center building it owned on Arapahoe Road just west of I-25.
On Sunday, residents and visitors will get the first look at the sprawling entertainment complex that is Pindustry, 7939 E. Arapahoe Road. Offerings from the "adult playground" occupying the two-level, 54,000-sqaure foot building include the area's first serious offering of Duckpin bowling, regular bowling, an impressive pinball machine collection and one of metro Denver's largest rooftop patios with an unobstructed view of the Front Range.
"You could spend the day here and not get bored," said Bob Koontz, Kelmore's owner.
Kelmore said they researched "bartainment" concepts nationwide. They obviously spent a lot of time at Pins Mechanical Co., the entertainment chain/bar famous for its duckpin bowling.
"The duckpin was important to Bob," said Shannon Silva, head of sales and marketing.
He calls it more "approachable" as the game – popular in the eastern U.S. – requires no bowling shoes. The balls are smaller without holes, the lanes are shorter and the pins are attached to lines. The name is said to come from pins exploding in a strike looking similar to ducks scattering.
The kitchen serves wood-fired pizza, but Koontz can't find enough employees to staff it and serve the planned full menu offering of Italian dishes. Despite that, and some other pandemic-caused construction issues, Pindusty is ready for a soft opening.
"People are doing anything to get out and about. They're making up for lost time," he said.
At full capacity, Pindustry will need up to 200 employees to serve up to 2,300 customers.
Arapahoe Entertainment District
Developing for 30 years along Arapahoe Road, Koontz and Kelmore co-founder Don Siecke became known as the "Arapahoe Road Boys."
"It's been so good to us, we didn't need to go far," Koontz said of the strip malls, retail and commercial development including the multi-use area anchored by Celebrity Lanes on the northwest corner of Arapahoe and Parker roads.
"We developed this whole piece of Arapahoe west of I-25," Koontz said. "This used to be the southern edge of metro Denver. But as it grew with Ridge Gate and Lone Tree, we woke up one morning and we were in the middle. There's a lot of property looking to re-develop."
District plans fermented about four years ago to turn the whole southeast corridor of the Denver Tech Center into an entertainment district with Fiddler's Green in the center and walkable from RTD's Arapahoe light rail station. Koontz said talks began with Greenwood Village to create an entertainment district with sales tax incentives to pay for re-purposing the strip mall-style retail.
Greenwood Village's Derek Holcomb, director of Community Development, said the City Council approved the formation of the district – to include everything east of Syracuse Way, north of Arapahoe Road, and west of I-25 – in late 2019.
"There was essentially zero activity there until council approved the Arapahoe Entertainment District and rebate program," Holcomb said. "Within a couple of months interest came in left and right."
The program works like this: Landowners who want to develop, or re-develop, property within the boundary submit 60 month's worth of sales tax receipts for the existing use. Whatever the redeveloped property earns above that benchmark for up to five years after the new development opens gets rebated to the owner incrementally. So 100% is rebated in the first year, all the way down to 25% in year five.
The rebates only go to external improvements – like Pindustry's large Sky Deck – or sidewalks, lighting, parking lots, building facades, etc., said Holcomb.
"The owner takes back a share of the pie that's larger because of the improvements," Holcomb said. "It's a pay-for-performance. … It's basically no risk to the city."
For Pindustry, the construction estimates were submitted at $9 million, though there were likely overruns as Koontz mentioned the difficulty getting anything "with microchips or metal" during the pandemic, and lumber prices increased dramatically. On the increased sales tax generated estimate, Kelmore could earn up to $1 million in rebates over the next five years – more if business booms higher than estimates.
"The Kelmore group was tracking this through council and really in tune," Holcomb said. "They began prepping for Pindustry during discussions and were out of the gate first. They were ready to strike when the iron is hot and quickly turn something that was declining into what should be a great entertainment destination for Greenwood Village."
Other developers taking advantage of the rebates are Denver restaurateur Troy Guard, who is planning to open Grange Hall where the old CB & Potts stood behind Pindustry. The old Macaroni Grill there has been demolished and will soon be replaced with a Shake Shack and a free-standing Starbucks, Holcomb said.
Non-stop entertainment
Pindustry planners kept the theme of echoes of the building's past – obligatory with cool adaptive re-use real estate projects.
Employees who issue reloadable cards that will be customers' key to all entertainment are the "pit crew." A hand-painted mural with the old-time-auto-shop feel "Bob and Don's" adorns the wall of the bowling alley, where the cars used to be hiked up on lifts in the service bays.
It's got a distinct industrial "hipster" vibe for the target audience of 21-50-year-olds. The shipping container bar serving rotating tap craft beers on the 16,000-square-foot Sky Deck juxtaposes the chandeliers on the main floor.
Silva said it was important to create sections in the cavernous space, so there's places for private parties amidst the darts, skee ball, Pop-a-Shot, billiards, ping-pong, foosball. Upstairs, patrons can wander among the league-ready cornhole section with stadium-style seating, huge Jenga and chess sets.
Pindustry plans to welcome live music as well, complimenting what's playing at Fiddler's Green in hopes of luring before-and-after concert crowds.
"Especially after a concert, you know how sometimes you're amped up not ready to go to bed," Silva said. "It will be a complimentary vibe."
It sounds a little corny, but Koontz is serous about delivering fun:
"We are here to have fun, love each other and be human."